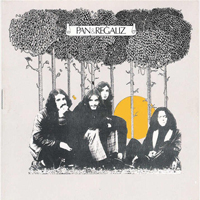 A one off album from this Spanish band who disappeared after the release of this album. Hopefully not in one of general and dictator Franco's many nasty prisons. Spain was a very repressive fascist states at that time.
The music on this album has been created with vocals, flutes, guitars, bass and drums. There is even some harmonica on this album. Pan & Regaliz is commonly known as one of the first prog bands from Spain although their music is not particular prog.
OK, there is a lot of psychedelic rock here. That and some jazz and a lot of blues. Not the mention standard rock. This album is all over the place. But the core of the album is psychedelic rock from the late 1960s with some heavy krautrock influences too. Krautrock fans will like this album.
The result is not particular impressive. As I said above, the album is fragmented and all over the place. The music is not particular good either. It would give it a rather weak decent score. That what this album is and it is not a particular interesting thirty-five minutes long album.
2 points