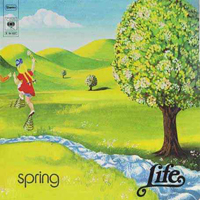 The only sign of life from this German band.
This album has one of the better cover artworks I have seen from a German album. Or any albums for that matter. It is such a pity that the music is not exactly of the same class.....
Life was a short lived project in Germany, run by Julius Schittenhelm from Amon Duul II and numerous other krautrock bands. That is why I expected krautrock here. There are some krautrock here, but not much. Instead....
... we get a mix of 1940s blues, 1960s psychedelic, 1960s garage rock and some krautrock. The sound and production is not the best with the vocals in the background and the instruments in the foreground. Instruments like guitars, harmonica, bass and drums.
The quality of the songs are dire, to be honest. The sound is clear enough and leaves nothing to my imagination. The production is as I mentioned above, pretty dire too. What positive things can I say about this album ? Let me think....... hard..... even harder. Nope, there is nothing good I can say about this album. It is a turkey, forever wandering around in my turkey yard, waiting for Christmas.
1 point