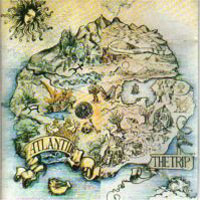 The third album from this Italian band.
It is many years since I were listening to and reviewed an album by The Trip. Their second album Caronte to be precise. More than five years ago, in fact. I cannot remember anything from that album as 3000 albums has been reviewed in the meantime. But I have always seen them as a fusion band.
I am wrong, in fact. They were more an ELP type band. At least on this album. The opening minutes is a blend of ELP and Annie Haslam's vocals for Renaissance. The rest is more or less pretty straight forward ELP'ish symphonic prog with some Italian avant-garde vibes thrown in at the end.
The vocals are in English and the music is heavy laden with keyboards. There is no guitars here. But there is plenty off bass and drums.
I am a bit surprised to discover that the vocal lines and melodies has taken a lot from Italian beat anno 1968'ish. The melodies is not as symphonic as I thought they would be. The music is a bit on the more primitive side and not even keyboards cascades can mask that. This is nevertheless a reasonable good album which does not really impress me. It is so and so.
3 points