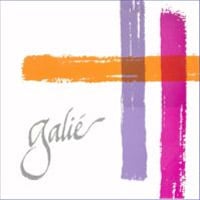 The second album from this Mexican band.
Galie's debut album, see review somewhere else on these pages, was a pretty heavy flutes laden album. Not heavy as in heavy rock, but full of flutes. That also goes for this album where the flutes by far is the dominant instrument. That means various flutes with a great Latin-American flavour.
The music is a mix of symphonic prog, Italian symphonic prog and folk rock. Latin-American folk rock. There are some 1980s rhythms and rock here in the background where the flutes and a Hammond organ is dominating the front of the soundscape. Some classical guitars are also in the forefront of the sound inbetween the flutes.
The sound is pretty good and is not suffering too much from the 1980s. No complaints. The music is not the most exciting around. It is pretty obvious that the band is highly skilled on their instruments. They manage to give this album both a jazzy lively feel and a romantic feel. The music got a lot of the same qualities Flairck brought to the scene.
The music is not the most interesting. It is nevertheless a good album well worth checking out. I would recommend it.
3 points