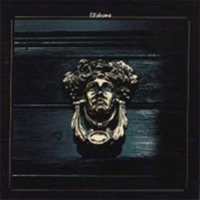 The sixth album from Yes...... sorry, the debut album from this Swiss band. A band who released two albums before they disappeared into the Alps again, never to be heard from again.
I have often branded bands as Yes clones when appropriate. In this case, it is. Take away some of the more cow bells Welcome use and you get Yes. Welcome does not have a fantastic keyboards player and that is the two differences. The vocals are more or less identical although Welcome's three vocalists is not on par with Jon Andersson.
Strangely enough, Welcome was only a trio. They got a heck of a lot out of their guitars, bass, keyboards and drums. That reminds me a lot about what ELP got out of their lineup. There is no really outstanding musicians in Welcome though and this album is more an obscure curiosity than anything else.
Despite of that and the lack of any really great tracks here, this album is not bad at all. I very much enjoy this forty minutes long album. There is a lot of interesting details here and the band knows what they are doing. I am elevating this album up to a very good status. I quite like this export from Switzerland.
3.5 points