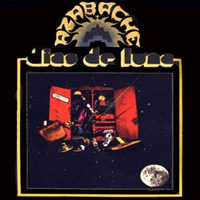 The debut album from this Spanish band. The first of in total two albums.
Spain had a great symphonic prog scene back in the 1970s although the dictator general Franco was still in power and his successor king Juan Carlos was still fighting to install a democracy there. That happened around 1979, if I am not much mistaken. Spain was dead poor back then, too. But they still had a great culture and music scene. Spain is a great country and one of the cultural powerhouses on this planet.
Azabache was a splinter band from the Spanish folk-rock band Azahar (see reviews). Azabache was formed to expand their music into a much more symphonic prog direction. That is exactly what this album is. A Spanish symphonic prog album with it's roots in both Genesis and Azahar. In other words; English symphonic prog meets Spanish folk music.
This album also has a lot in common with the Italian symphonic prog scene. Yes, there is a lot of flamenco here. It is still a pretty similar to the Italian scene with flutes, guitars, mellotrons, drums, bass and local male vocals. In this case; Spanish vocals. The music is still passionate and vibrant.
My main gripe with this album is the lack of any great songs. This is still a good forty minutes long album and one I really like. Check it out.
3 points