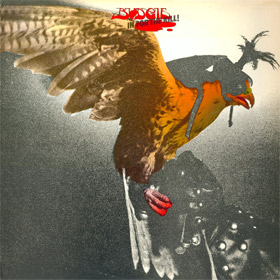 The fourth album from these Welsh hard rockers.
This band is often regarded as one of the pioneer bands in the hard rock scene. They got a bit of a renaissance through Metallica's inclusion of one of their songs on the $ 5.95 EP.
Budgie is not only hard rock though. The title track and Crash Course In Brain Surgery is hard rock. The title track is a very good track too. Very catchy. The following track Wondering What Everyone Knows is pastoral psychedelic song. One I am not particular fond of as it is too pastoral. The rest of the album has some more riff based songs. Some of them pretty hard and some more melody orientated.
Budgie has always been labeled as an intelligent hard rock band with quirky melodies and riffs. This album proves that point. It straight hard rock and boogie. Then again, it is not. The music is very quirky. I am not one of those who sings it's praises though. The title track is a very good song. The rest is not that good. The average score is barely good and I leave it like that.
3 points