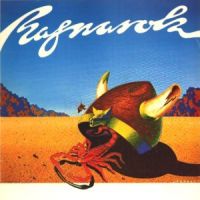 The debut album from this New Zealand band. A band not to be confused by numerous other bands with the same name.
New Zealand is on the other side of the planet, seen from my humble office here in Scotland and from the main music scene in USA and Europe. I would love to visit and explore New Zealand more. The nature, minus the creepy crawlie man killing animals, is right up my alley.
Their local Ragnarok is also a band right up my alley too. Psychedelic and space rock is the main course here. More psychedelic rock, though. In the beginning, at least. The band is fronted by the female vocalist Lea Maalfrid. That surname does not sound New Zealand to me......... Nevertheless, she is supported by keyboards, guitars, bass and drums. There is a lot of moog here too. Well, synths who sounds like moog.
The end result is more a krautrock album than anything else. Amon Duul II springs to mind. There are also a some symphonic prog here too. I would still label this album as a krautrock album. The music is very melodic too. My main gripe is the lack of any great tracks. Besides of that, this is a good debut album and I would recommend it to anyone who likes this kind of music or want to add New Zealand to their map too.
3 points