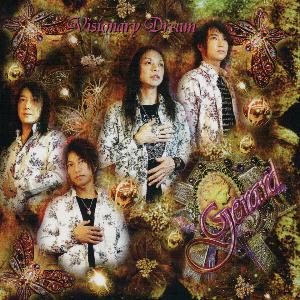 The thirteenth album from this Japanese band.
Gerard was and is still known as one of the best Japanese prog rock bands. Mainstream progressive rock, that is. The Japanese avant-garde and zeuhl bands is more respected and admired than the mainstream progressive rock bands.
Gerard has released some albums which is difficult to find in my part of the world. Obscure albums in other words. Visionary Dream is pretty much easy to find. So I found it and went for it based on their reputation as a great neo-prog band.
What I found was forty minutes with a mix of neo-prog, AOR and prog metal. A lot of guitars and keyboards with some rather heavy accented English vocals, which I thought was Japanese vocals, and the support from the bass and drums. The music is very generic with cascades of guitars and synths. Maybe the label pomp rock is more fitting than the labels I have used above. On reflection, it is.
The vocals is pretty dire, the guitars and synths feels generic and the bass and drums is just tagging along in this party. The songs are not particular good on this pretty decent album. I am not a fan of pomp rock with no good or even great songs. The end result is a decent album and nothing more than that.
2 points