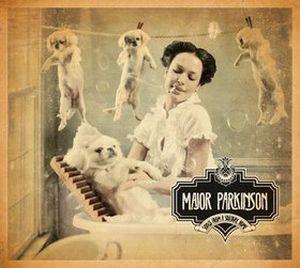 The second album from this Norwegian band.
I strongly suspect that this band is from Bergen on the west coast. Their music is very much in the same vein as the Bergen avant-garde rock scene. A small, but very productive scene. Major Parkinson's music fits in very well in that scene.
How can I describe this music ? Take the same ideas which gave us the likes of Gong. The same whimsical pop rock combined with something else, weird and wonderful. In this case; everything from hardcore to vaudeville rock to jazz and Balkan folk and dance music. Combine that with a lot of the Canterbury prog feel and you get this album.
The vocals here is dark male vocals. The band uses a wide variety of instruments to create this music. Oh yeah, Gong is a good reference here. The music smashes up all barriers.
In all this barn doors and barriers smashing up fest, the songs are really good too. A lot of them are very good too. There are some stuff I do not like. Nevertheless, this is an album I find enjoyable because it challenges me and because the music here is good. I will get their new album, then.
3 points