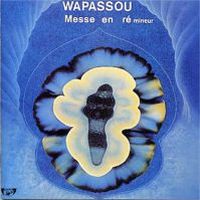 The second album from this French band.
Wapassou was a French avant-garde/RIO band with moderate success. They are not regarded as the best in the scene. And that by some distance. But I don't really care what other says. They are getting a fair chance in my blogg.
Wapassou was a four piece on this album with a lineup of violin, guitars, vocals and keyboards. Yes, that is no bass and no drums. The keyboards is keeping what goes for rhythms on this album. That is not much. The vocals is used as an instrument and not as conveying words and a message.
It is my understanding from the title that this forty minutes long track album is a mass. And it sounds like it, indeed. It has a large degree of choral feelings. It also got a cathedral like feeling. It also has a religious, Christian, feeling.
The violin, harmonic and disharmonic, is together with the other three instruments, creating one heck of a mass. An almost disturbing mass. It is surprisingly melodic too although this is clearly avant-garde music.
The end product is a very good album and one of the better I have heard in this field. This album is one you most definate have to check out. I really like what I hear as it also gives me a piece of mind.
3.5 points