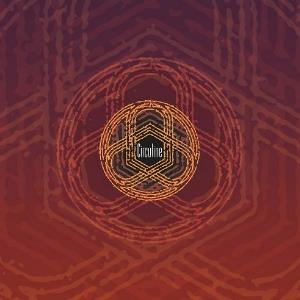 The debut album from this US band.
Circuline is a totally new band to me. The had help from a Sound Of Contact band member here and were previously the prog tribute act Downing Grey. The band has also toured as a support act for Glass Hammer. In their promo blurb, they compare themselves to 3rdDegree, Dream The Electric Sheep and Elephants Of Scotland.
Modern symph/crossover prog in other words. The band members are not exactly teenagers either. Call them well matured and rich in life experience. This band is very likely a hobby, a very serious hobby, for the band members. Which is the right way to go about things. I could not agree more with their life choices.
Circuline is also a eight piece band with a lineup of electric violins, guitars, bass, drums, keyboards and male and female lead vocals. There is a lot of vocals harmonies throughout this album.
It is very obvious that this is an US band. Their take on symphonic/crossover prog is very modern and based on good melodies and sounds. Their music is indeed very elegant. The references to Glass Hammer is indeed pretty loud and clear.
The band is not breaking any new ground here. This is not the invention of the wheel. Their music is full of moods and is sometimes slightly harsh with chugging guitars. The vocals is very good throughout and I like the harmonies a lot.
This too me sounds like an album from eight people who has been around for decades and have decided to have some fun halfway through their lives. And the result is a mature, very elegant very good album. There is no great songs here. But this is still a very good album. I think this band deserve a lot of credit and attention for this album. They are a credit to the US scene.
3.5 points