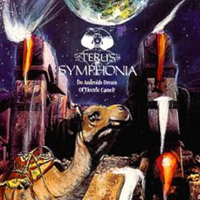 The sixth album from this Japanese band.
I have just purchased their final three albums as I find Japanese symphonic prog pretty exciting. Their 1993 album Clockworked Earth was a good album. You will find the review somewhere else here.
The band was again a five piece band with a lineup of keyboards, guitars, bass, drums and female vocals.
There is no denying that Ms. Megumi Tokuhisa's vocals is a stumbling block for anyone listening to this and other Teru's Symphonia albums. It is a Japanese thing and I respect Japan and it's language. I actually love Japan. When that is said, the vocals here are great and Ms. Megumi Tokuhisa comes out of this album with flying colours. Most of her vocals are in Kate Bush territory with same technics and feelings.
The music is Japanese symphonic prog with a lot of keyboards and guitars. I state symphonic prog. But you can also add some neo-prog here. And you can also add the sound and music Kate Bush had on her first three albums.
The music is at times pretty heavy. It is also soaring and majestic with some hints of classical music. It is still symphonic prog, the Japanese way.
The end result is a good album without any really great stuff. But I really like this album and would recommend anyone into prog rock to check it out.
3 points