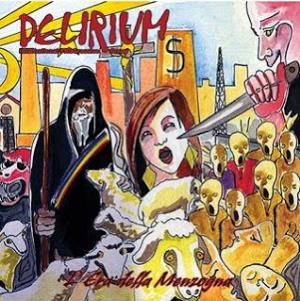 The fifth album from this Italian band.
The band released their debut album in 1971 and took a 35 years long break between their third and fourth album. The band is now active again, doing gigs and festivals.
Delirium is a six piece band on this album with a lineup of saxophone, flutes, keyboards, guitars, bass, drums and Italian vocals. Two of the members also plays in Narrow Pass and Maschera Di Cera.
Delirium is a bit difficult to pinpoint at times. Their music is most definate Italian symphonic prog rock with a lot of Van Der Graaf Generator and jazz influences.
The sound on this album is very contemporary and the band is not stucked in the 1970s. They are very much living in 2015 and this time and age. The music is both epic and intricate.
This album is fifty minutes long and has some good Italian symphonic prog pieces. There is also a lenghty jazz piece here. The vocals is very good. My only gripe is the lack of any really great tracks.
Nevertheless, this is a good album from this band which is not mentioned among the greats from this scene, but still is a band which demands a lot of respect. Respect given by myself.
3 points