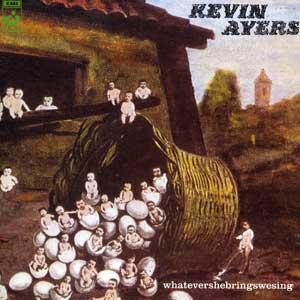 The third album from this eccentric English legend.
Kevin Ayers started out in Soft Machine and played on their first album. Then he went his own way on a quite successful solo career.
He was helped by a lot of great names from the scene when doing this album. Robert Wyatt, Mike Oldfield, David Bedford, Didier Malherbe and other great names from the scene.
Kevin Ayers vocals is the bearing element on this album. An album which neatly fits into the weird psychedelic pop/rock genre. Most of the songs are clearly very folk rock influenced and with a strong west coast of US flavour. Still with a very strong psychedelic vibe.
Kevin Ayers vocals are pretty weird. The lyrics are very weird. There are a strong vaudeville and circus vibe over the whole thirty odd minutes long album. There are also some more or less hidden avant-garde elements throughout this album.
In the middle of all this, the songs are good throughout. The songs are short and strange at the same time. But still, good.
The mood and eccentricity of this album is clearly very English. British humour is a strong element of this album. And you need to understand this humour to understand this album.
This is a good album in it's weird eccentricity. And I can understand why Kevin Ayers was held in such high esteem. Check out this album to get Kevin Ayers and his world.
3 points