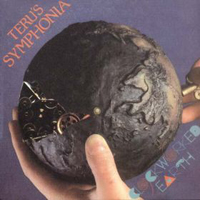 The fifth album from this Japanese band.
I have never heard as much as a tone from this band before I purchased three albums by them a couple of years ago. They are listed as symphonic prog in ProgArchives and that is always a purchase trigger. I love symphonic prog.
I do not know this quartet at all. Their lineup is drums, bass, keyboards, guitars and female vocals. Japanese female vocals, that is. That intrigued me.
This one hour long album is indeed an hour with symphonic prog. Take ELP and add some neo-prog influences and a lot of Japanese colours. Also add some prog metal too.
The vocals are a bit strange. Japanese is a bit strange and the vocals here are thin and a bit screamy. But it is what Japanese vocals is.
The music is pretty standard fare. It is good fare though and I like what I hear here. This is indeed a good album and I am intrigued because this is regarded as their weakest album by ProgArchives. I am looking forward to listen to the two other albums I purchased.
3 points