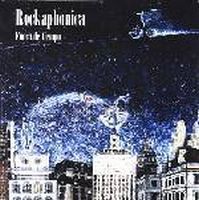 The one and only album from this Argentine band.
This band is lead and fronted by the flautist Ricardo Luna. He has got help from five other musicians. The lineup is flutes, tin whistle, bass, drums, keyboards and guitars.
The whole fifty minutes long album is instrumental. It is also an album where the flutes is pretty dominant too. There are some long guitars solos too.
In short; this is instrumental symphonic prog. Camel is a big, big, big influence here. So is most of the other classic instrumental symphonic bands too. Genesis can be detected too here. Not to mention Jethro Tull too.
Most of all; the music is Ricardo Luna's visions and it is rooted in the symphonic prog rock tradition in Argentina.
That means a lot of folky music too. That is what you get with flutes. And that is what you get here. Even some tango and flamenco rhythms is pressed into action on this album.
The penny drops when this album ends with their covers of Rhayadar and Rhayadar Goes To Town. Both of them are Camel classics.
I am by no means a fan of instrumental symphonic prog. But this is a good album by all means. This is one album I really like a lot. There is no great original stuff here (I don't include the Camel covers here). But this is still very much an enjoyable album who needs some more attention. Check it out.
3 points