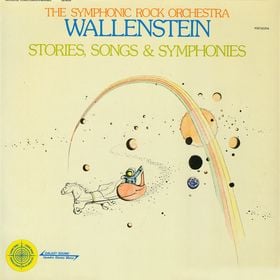 The fourth album from this German band.
The band was wandering through a wide variety of musical landscapes on their first four albums. But branding themselves a symphony orchestra on this album is a bit rich. They are not a symphony orchestra on this album.
They were a five piece band with a lineup of guitars, keyboards, bass, violins, percussions, drums and English vocals on this album. An album clocking in at almost forty minutes.
The band had gone on a visit to the English apple orchards this time and come home with a sound which a great deal reminds me about Barclay James Harvest, The Moody Blues and The Electric Light Orchestra. Add some Van Der Graaf Generator too and you get this album.
The music is dark with a lot of keyboards and church organs involved. That and some chiming distorted guitars. The mood is almost gloomy at times. It is a gloomy album inbetween these apple trees.
The music is also very folky too and this adds to the warm sound here. Gloomy, but still warm.
The songs are very good throughout. There is no really outstanding tracks here and no signature melodies. But I really like this album a lot. Hence my verdict.
3.5 points