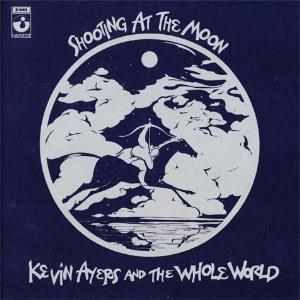 The second album from this English man.
When Kevin Ayers passed away on the 18. February 2013, he was hailed and remembered as a true genious song writer. Some of that came through at his debut album Joy Of A Toy from 1969 which I reviewed and really liked one year ago (or so).
On the basis of that album and his reputation, I bought his Original Artists box. Something I do not regret.
Shooting At The Moon is regarded as a much more The Whole World album than a Kevin Ayers solo album. The New World is one heck of a band with Robert Wyatt, Mike Oldfield, Dave Bedford and some others well known musicians from that time. This album is therefore regarded as his most untypical album.
The music here is a mix of naive psych pop songs like the great opener May I and some avant-garde studio tapes experiements. Some of the latter ones are pretty pointless. The more straight songs here are all very good and indeed very special. The rather spaced out title track is also a very good song.
This album is an album in two halves with some very good stuff and some not so good stuff. Hence my rating which is an average.
3 points