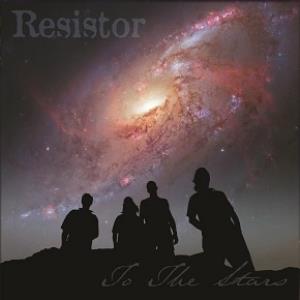 The fourth album from this US band.
Resistor is the rock band from Steve Unruh, a pretty prolific solo artist and contributor to other bands. All of them far out avant-garde bands..... I believe. Correct me if I am wrong.
Steve Unruh gets help from three other musicians here. Together, they are this proper band. Their lineup is violins, flutes, guitars, bass, vocals and drums. Yes, no keyboards.
No keyboards means the band is really rocking out here. The music is reasonably heavy and pretty much contemporary guitars driven rock. Though with added violins and flutes now and then.
Sometimes the music is touching Iron Maiden territory and sometimes the music is also touching power metal territory. Helloween springs to mind here. But the baseline and the vast majority of this album is just heavy and melodic guitar driven rock. Steve Unruh's vocals are really good.
The title track is the best track here and a good track. The rest of the album is not that really good. This is a decent to good album which really does not rock my boat.
2.5 points