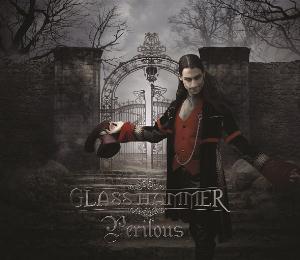 The fourteenth album from this US band.
The band has gathered again in a recording studio to launch a new assault of symphonic prog. The band released new albums every 15 months now.
The band was a four piece band with the now Yes vocalist as their vocalist. His name is Jon Davison and he is getting help from Kamran Alan Skihoh on all guitars. The two other members are the real Glass Hammer; mr Steve Babb and Fred Schendel on bass and keyboards.
These are again helped out by a string orchestra, a choir, a drummer and various other vocalists. That also includes a female vocalist.
The sound is pretty big. The comparison to Yes is very evident as Jon sings like Jon Anderson. But Glass Hammer is Americans and their sound is this bigger than life American symphonic prog sound. Add some AOR too and you get it.
The songs on this one hour long album are all good. There are a lot of very good details here too. This is a solid, but not particular exciting Glass Hammer album. It is not one of their best albums. But it is still a good album.
3 points