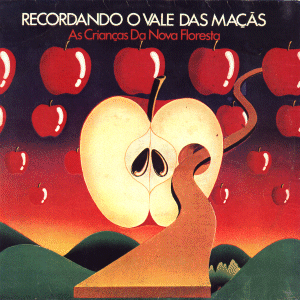 The one and only album from this band from Brazil.
This very long band names means The Valley Of The Apples in English. Strangely enough, no English band picked up that name for themselves. A lost opportunity, me thinks.
The band with this long name was a four piece band with a lineup of violins, keyboards, bass, drums, guitars and Portuguese vocals. One guest musician adds flutes too. There is a lot of flutes on this album.
As you may detect on the album artwork, this is indeed an album full of lush music. Take Camel and add a lot of Brazilian folk music to the proceedings. This album is bang in the middle of the South American symphonic prog sound and tradition.
A lot of keyboards with added violins, flutes, acoustic guitars and vocals is what we get here. The music is pretty pastoral throughout these forty minutes. There are a few outbreaks of more agressive, bombastic symphonic prog. But most of the music is pastoral and softly spoken.
Both the male and female vocals are really good here. The same goes for the sound. The songs could had been a lot better. But they works. This band is perhaps not the best band from this scene. Nevertheless, check out this album.
3 points