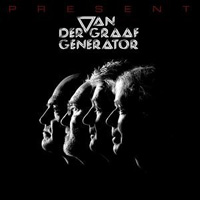 The ninth album from these prog rock legends.
I am including this band in my top 5 of all progressive rock bands. Just to start of with that confession. I really like this band a lot.
Present was their comeback album after a 28 years old album silence. Peter Hammill and the three others here, David Jackson, Guy Evans and Hugh Banton had been occupied with their daytime jobs, solo careers and other bands. The list is too long to mention here.
Comebacks can be a lot of things. In this case, it opens with one of their all time best songs; Every Bloody Emperor. A seven minutes long dirge which really belongs to the all time great songs. I love that song.
The other great song here is Nutter Alert. The rest of disc 1 of this 2CDs album is also very good. David Jackson fires on all cylinders with his saxophone. Peter Hammill does a great job on vocals, guitars and piano. Hugh Banton follows up on bass and keys. Guy Evans shores everything up on drums. A great effort all around. This album belongs to David Jackson, though.
Disc 2 is sixty-five minutes with improvisations and should be ignored in it's entirety. I don't like this disc at all. The thirty-seven minutes long disc 1 is what this album is all about.
Hence my verdict here. I rate this as a very good album indeed. As a comeback, you cannot ask for anything more than this album.
3.5 points