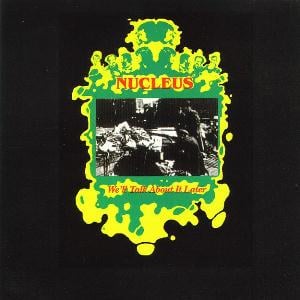 The second album from this British jazz/fusion band.
Nucleus was a band who contributed greatly to my favourite band Soft Machine with members and ideas. On this and their debut album, Karl Jenkins, now Sir Karl Jenkins, and John Marshall still remains together with Ian Carr, Nucleus main man. So we are all set for some fireworks, then.
And that is what we get. The opening track Song For The Bearded Lady is a superb song with some guitars on the top of a great song. Chris Spedding is the guitarist here.
Ian Carr does a lot of trumpet solos on the rest of the album and I understand why he is so compared to Miles Davis. The same Miles Davis and his groundbreaking and genre defining Bitches Brew album is a good reference here when trying to describe the forty-five minutes of music on We'll Talk About It Later. Karl Jenkins plays organs, oboe and baritone saxophone on this album too and is doing a great job here. Brian Jones also contributes on saxophones while Jeff Clyne on bass and John Marshall on drums keeps it all together.
I am not sure why the two tracks with vocals are doing at the end of this album. Those two tracks are great though and does not really weaken this album at all. This is a great album and one to really love for everyone into jazz and fusion. Get this album.
4 points