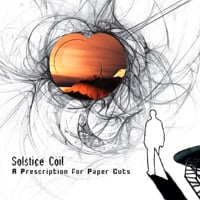 The debut album from this Israeli band.
This album is a follow up to a couple of EPs the band released the years before they went to a full album.
Solstice Coil is perhaps most famous for some funny Dream Theater drummer parody Youtube movies. Something that went down very well with Dream Theater who loved these videos and marketed them accordingly. The band is perhaps lesser known for their music and three albums. Perhaps.
I liked their second album Natural Causes from 2011 and reviewed it accordingly in ProgArchives the same year. I have just got their new album Commute and will review that one too pretty soon.
On this, their debut album, the band was a five piece with Shir Deutch everywhere on vocals and guitars. He was helped out by keyboards, drums, bass and piano. Guest musicians added saxophone, cello and female vocals.
The music is pretty much rock orientated with some Radiohead, Gazpacho, Marillion and Pink Floyd influences.
The music varies from pretty hard to pretty soft. It is pretty dynamic too. Unfortunate, there is no really good songs here on this fifty minutes long album. Which is the big problem with this album. The sound is great though and it is a decent to good album.
2.5 points