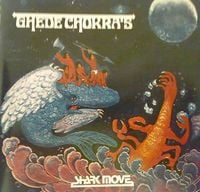 The one and only album from this Indonesian band.
For some rather strange reasons, Indonesia has been a pretty big country in the prog and jazz movement. Some interesting bands has come from this country and not only on the MoonJune record label.
Shark Move was one of the first bands on this scene. They were a five piece with bass, drums, guitars, organs and both Indonesian and English vocals.
The music was a mix of Yes, Pink Floyd, Genesis and very much local rock. Mostly local rock and a lot of the English symphonic prog scene.
The sound is reasonable good and so is the music. There is no good songs here and I am not really connecting with this album which has not stood the test of time. This is a decent album though.
2 points