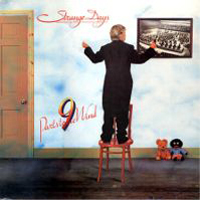 The one and only album from this English band.
The band is listed as a folk rock album in ProgArchives and I had some hopes of a Fairport Convention like album. That is not what I got..... That is by no means Progarchives fault, though. I blame this on my imagination.
The band was a four piece with keyboards, guitars, bass, drums and vocals. The vocals is pretty good.
The music is what I would label standard rock anno 1975. Yes, it comes with some pretty strong folk rock connotations. But commercial, outdoors festival friendly English rock was like that in 1975. The music does not have much prog rock either. None, truth to be told.
The riffs are pretty catchy and the opening song, the title track, is a good track. The rest is decent enough and the musicians sometimes delivers something pretty good. That includes the lyrics too.
This is a decent to good album which is an obscure album for a very good reason.
2.5 points