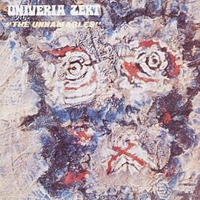 The one and only album from this Magma offshot. It is Magma in all but name.
This album was recorded and released just after the Magma album 1001 Centigrades as a introduction to zeuhl for the broader market. It is an introduction to zeuhl. Well, it was supposed to be that.
The Unnamambles has (with one exception) the same line up as the band who released 1001 Centigrades too. The difference is that we get more straight edge jazz. The mood is far lighter than on any Magma album, Merci excluded. The music is a bit fusion light too. Piano and woodwinds can be found here too. The occasional outbreak of kobaian from Christian Vander can also be found here. A bit demented and that is the only thing this album has in common with zeuhl.
I really don't get this "introduction to zeuhl" element here the band tried to attempt. Zeuhl as a genre is so much darker and brooding than this album. It seems like Magma totally missed the boat with this album. That is why I am so glad they did not release it under the Magma name. This album is not as bad as Merci. But it runs that album pretty close. Nevertheless, it is a decent album which recovers a great deal at the end of this half an hour long album.
2 points