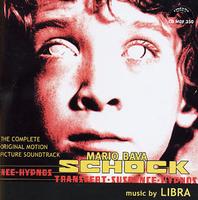 The third and final album from this Italian band.
Schock is the soundtrack for the movie of the same name. A horror movie. Two Goblin members are also helping out on this album. Libra was compared a lot to Goblin and this album very much proves why.
Schock gives us forty minutes of cinematic movie track music here. That means electronic music anno 1977 and instrumental music. The album opens with the title track which is the best track here by miles. A nice funky track which shows a lot of promise. The rest of the album is very much in the Goblin and horror movie soundtrack. We are not exactly talking Grease or Saturday Night Fever here.
I have to admit horror movie soundtracks is not my forte or the type of music I enjoy. I am not even a Goblin fan. This album is a decent enough album and nothing more. It is not my cup of tea. Fans of Goblin will love this album, though.
2 points