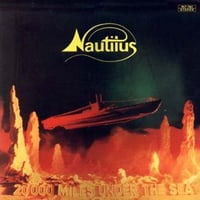 The debut album from this Swiss band. The first of in total two albums.
Nautilus was a mix of a symphonic prog and a krautrock band on this oceanic album. An album clearly influenced by Jules Verne. This despite of Switzerland being landlocked. But the oceans fascinates all of us. That also goes for what lays beneath the surface too.
The music on this album has a nice mix of guitars and keyboards with bass and drums also supporting it. On the top of this, you will find some very good English vocals. They are not particular heavy accented and they really fits the music.
The music is pretty melodic with some pop music elements in between the more symph and krautrock dominated music here. The music is pleasing enough to the ear.
My main gripe is the lack of any really great songs here and the music being a bit too light for my taste. The sound is great though and this very good album should appeal to anyone into German symph prog and symph prog in general.
3.5 points