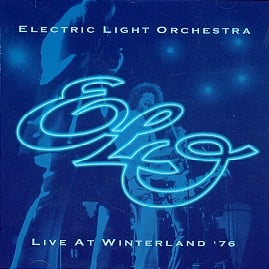 One of two archive live albums released by whatever was the band in 1998. The other one was the Live At Wembley '78 and I will come back to that one later this spring.... whenever spring arrives here in Scotland.
Archive live albums like this is not a bad idea at all and this album showcases this band as they sounded on their Face Their Music tour which hit Winterland in San Fransisco too in 1976. This is the sound of that gig, edited down a bit. It is a one hour long album and I hope they played longer than that in this gig.
I have had my doubts about Electric Light Orchestra in a live environment. They are pretty lush with their strings and mod cons in a studio. Stripped down on a stage with sometimes faulty tapes with the strings making their already stripped down sound even more naked. The tapes were working in this gig though. A gig where they sometimes sounds a bit rockabilly. They are far more rock'n'roll on stage than in studio. I guess that is a combination of adrenaline, the tour environment and a compensation for what they cannot bring to the gigs from the studio.
The end result is a pretty cosy, altogether different version of Electric Light Orchestra. The sound is good, but not great. We get the rather good Evil Woman here and a very good version of Nightrider. Then we get a ballsy version of Chuck Berry's evergreen Roll Over Beethoven. That song has been one of my all time favourite songs for the last.... well... 37 years or so. Both Berry's and ELOs version. ELO is rockin'n'rollin throughout the version.
The end result is a decent to good live album which is not particular interesting for the casual listener but pretty essential for ELO fans. Go for their first studio albums instead.
2.5 points