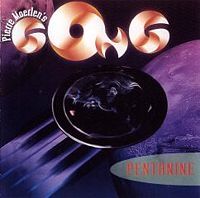 Which one of you is Gong ?
Daevid Allen had returned to Gong and take back the control of the name by now. Then we get a new Pierre Moerlin album again under this name. Not Pierre Moerlin's Gong, but Gong. What the heck is happening here ? Well, I guess it is better this way than fighting it out with very expensive solicitors.
This is probably the final Pierre Moerlin album under the name Gong too. 2032 was a full Daevid Allen album and so is the recent Gong gigs and tours too. As with all Pierre Moerlin's albums under the name Gong, his vibraphone is pretty much dominating here. He has got three Russians with him on guitars, bass and keyboards. The album was recorded in St. Peterburgh and I get the feeling this is a budget album.
The music is good jazz in the usual Pierre Moerlin vein. The formula sounds a bit tired and this album is not in the same class as Shamal and Gazeuse. The vibraphone is too dominating here and the melodies not particular interesting. It still offers up fifty minutes with fairly good jazz, well worth checking out. It is a weak three pointer.
3 points