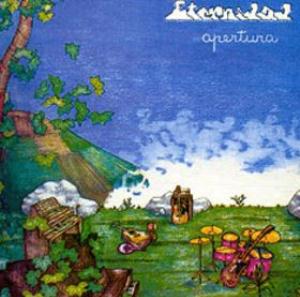 Another one of band from Argentina.
Argentina had some very good bands in the folk prog genre who only released one album and then disappeared again. Hopefully not over the open ocean, dropped from helicopters as 30 000 of their fellow countrymen/women were at that time. The odious dictators were ruling the country at that time. No, let's hope all the band members are still alive and well today.
The music on this well over half an hour long album is more fusion and symph prog orientated than most folk rock albums from that time. In this respect, this album has a lot in common with the Italian and the Spanish prog rock scene. So much that I mistook this album for being a Spanish album.
The album still retains some South American flavours though. Enough to make it exotic for a northern hemisphere reviewers like myself. The Spanish vocals adds to this flavour too. Not that Spain is that terrible faraway for me. The inclusion of a vast array of instruments here makes their sound very big and symphonic too. Big, but never bland. We get flutes, violins, piano and acoustic guitars in addition to the usual electric instruments, the tools of the trade.
The songs are very good too. The fusion and the sometimes Genesis rip off riffs really pulls my heart strings and make them sing (huh ? There is some poetry in this review). The end result is one of the better Argentine and prog folk albums I have heard during the last years. It is a very good album, well worth checking out.
3.5 points