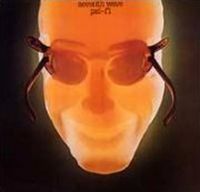 The second and final album from this English band.
I reviewed their first album not so many weeks ago and this is my final verdict on their outputs. Outputs which can be purchased as a 2 for 1 albums on one budget CD. Recommended and that is how I got this band in my collection.
Their first album Things To Come from 1974 was a decent album. I therefore had high hopes for this album. It seems like this band was not really for me in the first place. Psi Fi is a mix of the most whimsical bits of late era Pink Floyd, a huge dash of 1970s pomp rock and some symphonic prog. Add a lot of whimsical English eccentricities to this strawberry jam jar too and you get this album. This is essentially eccentric pomp rock with a lot of different instruments and voices. It has some rock opera elements too.
My main gripe is the lack of any really good tracks. That and this forty-five minutes long album being messy and a great deal of stucked in a time warp. It has not aged well. It is not my cup of tea. It is a decent album though. If you like this, check out Ebay and/or Amazon for cheap copies of the CD.
2 points