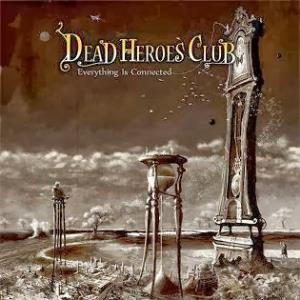 The third album from this Derry, Northern Ireland based band.
Derry is most known for the Bloody Sunday massacre, it's castle and John Peel's favourite band The Undertones with it's lead singer Feargal Sharkey. The town with the recent very violent history has always had a strong music scene too. This despite of the civil war who split the town into two warring halves.
Dead Heroes Club is a product of this scene and have been bubbling just below the surface in the prog rock scene for the last five years. Those few who has heard their three albums has always rated them very highly. The problem is "those few" here. Hopefully, this album will give them a bit more attention.
We are talking pretty dark neo prog here. The darkness comes mainly from the lyrics which to me seems to be about the split in Derry between the two warring tribes. The use of piano and the pretty dark vocals is also adding the darkness here. A bit of melancholy. A bit of tragedy as Derry, which I have visited many times, really is.
The music is in the same street as Marillion. Neo prog in other words. The sound is pretty big and art rock like. But it is still pretty similar to Marillion, though. The band uses keyboards, guitars, piano, drums and bass on this album. That and some sampled other instruments. That and vocals too.
The songs are very good and the lyrics resonates with me on this fifty minutes long album. This is indeed a very good album. I feel the lyrics is adding another dimension for me personally and I therefore upgrades this album to a great album. It is a weak four pointer though. The band need to get themselves a signature track on their next album, though. A song that sets them apart from the many bands with the same sound and music.
4 points