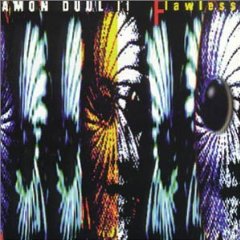 The sixteenth album from this German krautrock band.
Flawless was one of the final signs of life from this band and it was released on a very obscure label. It is pretty difficult to get hold of today.
Flawless is really a mix of somewhat new and some old remixed material. You get Renate singing over a lot of weirdo hippie and electro stuff. Some of the material is almost dance music. Some of the other material has a lot of krautrock influences. Flawless is electro krautrock. It also has a lot of the free-form madness from Gong and an playful atmosphere.
Some of the material here is bordering to being good. Others again is plainly dull and over the top waste of time. The law of average says decent and this is a decent album. It is not worth the amount of money it is currently trading for.
2 points