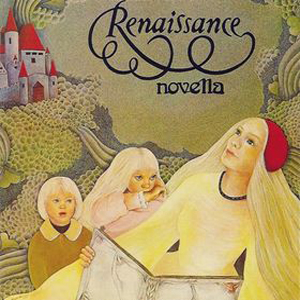 Their seventh album and the follow up to the excellent Scheherazade And Other Stories album.
Novella is perhaps the final classic Renaissance album and barely that. The setup is the same as on Scheherazade And Other Stories. That was a sparkling, fizzy album. The fizz and the sparkle has gone on Novella though.
The songs on Novella feels flat and uninspired to me. A lot of the focus has been moved from the instruments to Annie Haslam who is really carrying Novella on her shoulders. The 50/50 mix between Annie's excellent vocals (the best in the scene by far) and the instrumental parts is what makes this band such a great band and on my top 5 list of alltime best bands. That balance is not present here. There is two very good songs on Novella in the form of Midas Man and Can You Hear Me. Those two songs are far better when delivered live than on this album. The rest of the songs are good.
I feel let down by this album after the excellent Scheherazade And Other Stories. But the band still rates this album (see their last live album and gig tour) a lot so I guess I am in the minority of one here. Then again; it is impossible to live up to the standards set by Scheherazade And Other Stories. Novella is a good album and just that.
3 points