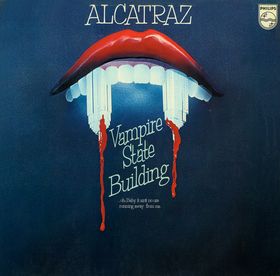 The debut album from this German band.
Vampire State Building has got a legend status in the krautrock scene. It is far more famous than their five other studio albums. Where other krautrock bands either went electronica (Can, Kraftwerk) or into space rock (Amon Duul etc etc), Alcatraz stood by their roots in a blues-jazz landscape. They added a bit of their own German identity and some avant-garde prog to this album. The result is heard on Vampire State Building.
The music is performed by bass, guitars, woodwinds, flutes and drums. The vocals is in the blues tradition. The bass and drums is very jazzy. The music is a layer on the top of that again.
The result is a good album which does not really impresses me. It is a debut album and I would be very interested in purchasing their five other albums too. There is an ambience in their music which tells me that this is a good band. I am not sure why this album has got this legend status, though. Maybe because of the art-work. Vampire State Building is not one of the better krautrock albums out there. But it is still a good album.
3 points