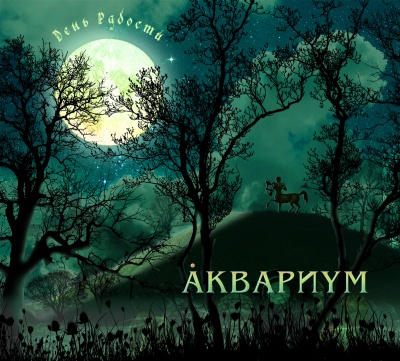 A live album by a band who deserve a lot of praise for just being here. A band who fought an oppressive regime and won. A band who was banned for a long time and so was their music. A band who released their first album in 1981 and has gone on to release 20+ albums.
Aquarium is from Russia, ex Soviet Union. They are rightly one of the national treasures in Russia today. Day Of Joy is their second live album and it is a glimpse into their music. I got it from a Russian friend as a trade with an unwanted Dream Theater CD.
Aquarium plays folk rock, greatly influenced by keltic folk rock. The vocals are in Russian and that is the difference between this album and any Irish or even English folk rock album. The flutes brings me to Dublin, the vocals to Moscow. Day Of Joy is a very commercial album. It is also a very warm, intimate portrait of a band who I think deserve a lot of attention also west of St. Petersburgh.
I am by no means a fan of this commercial type of folk rock. But this band has some good songs and sounds. Unfortunate, the kyrillic letters on the CD inlays does not make any sense to me. Seventy minutes spent with this band has defrosted my soul and made my living room quite cosy. The good sound has been an important factor in this. The audience also takes part here and this live album is a good live album. I would recommend it to all folk rock fans out there.
3 points