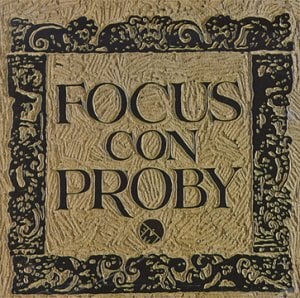 Seven albums into their career and Jan Akkerman had left the band. The pretty well known pop singer PJ Proby had joined the band. Hence the title of this album as PJ Proby probably also came with a pretty big ego too. In all fairness, he was probably a bigger name than Focus back in 1978.
Focus Con Proby is a strange album. It is a mix of instrumental fusion with some old Focus (the flutes) thrown in. Then we get PJ Proby on his own where Focus is his backing band. The Focus backs Proby result Tokyo Rose is pretty horrible lightweight pop which has no right to be on a Focus album. On the other hand, the eight minutes Proby-free Maximum is a good fusion workout where also the good old Focus comes to the forefront.
It is a bit difficult to give this album a point score. PJ Proby is a pretty average vocalist which not always seems to be in tune with the songs. The other stuff is good though. I am landing somewhere between decent and good on this one. Those who want to discover this great band should give this album a wide berth.
2.5 points