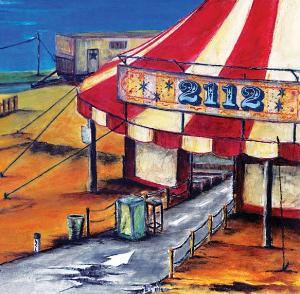 The fourth album from this Argentine band.
I apparantly hated their second album Intro, according to a review I wrote many years ago. Maybe I should give that album a second chance. Or maybe this band has moved on since 1994 and become a lot better. This album, with a tasty artwork, has made a far better impression in my office and house than Intro.
The band name gives more than one hint that the band is influenced by Rush. Not by the album of the same name, though. We are talking progressive hard rock and that Rush anno their two first albums. The Spanish & far better vocals than Geddy Lee's vocals kind of mask the similarities. The rest of the band is very tight and powerful. 2112 consists of bass, guitars and drums. No synths. Just a lot of clever use of power in the songs. The guitar riffs is very clever though and in the Alex Lifeson vein. This and the drums most of all brings Rush into the picture. The sound too is great.
There is no really great songs here. But I really like this album which has given me a lot of pleasure during the last two weeks or so. I think this is a very good album from a band who tours a lot, I have been told. If they are playing anywhere near you, make sure you catch them. Let's hope the rest of us gets more albums from this band. A very good album indeed.
3.5 points