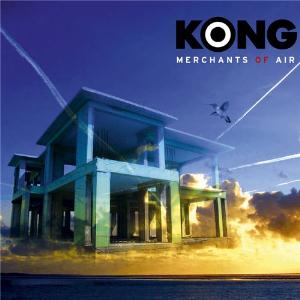 The seventh album from this Dutch band. I first time heard about them back in the early 1990s when they were signed on a Peaceville sub-label and had a couple of their tracks on their samplers. Weird music and I took a note of this band for further explorations. Merchants Of Air is my first Kong album though. First, but not the last.
The album sets off as a rocket down the industrial metal alley in the direction of Senmuth. I was not pleased first time I put this album on as I was fearing the worst. The music is guitar based with a lot of samples added on in addition to bass and drums. The guitars are pretty harsh.
Then, the true identity of this album, and probably Kong, emerges. It is still industrial instrumental music, but with a human face. There is a lot of guitar harmonies and almost soft landscape emerging on remaining majority of the album. A lot of very interesting details. This is still industrial metal though and this is not a music style I really like. Merchants Of Air is the best album I have heard in this genre since the second album from Red Harvest back in 1994.
Merchants Of Air; an industrial album with a human face. Bring on the flower power industrialists Kong. This is a very good album in my view, somewhere between 3 and 4 points.
3.5 points