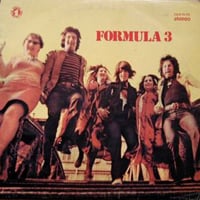 The second album from this Italian band. A band which normally is being referred to as an Italian prog rock band.
The music on this album is a mix of somewhat hard Italian pop and space rock. The guitars and keyboards are mostly distorted. Ditto for the Italian vocals. The music also takes a lot from both folk and hard rock.
The music on this album is pretty decent and only that. The very good interplays between the keyboards and the guitars the only positive I takes away from this album. The songs is pretty boring throughout. It feels like this is an album from 1967 and not 1971 though. The Italian scene had moved on in 1971 and Formula 3 was left behind. This is a pretty decent album though.
2 points