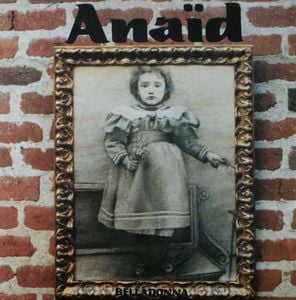 Anaid is a largely overlooked zeuhl band from France. Those who are ignoring this band is doing themselves and Anaid a disservice.
From the first tone, Emmanuelle Lionet very beautiful vocals becomes the focal point for this album. Her soprano operatic vocals is being supported by ex Soft Machine bassist, one of the best ever bassists, Hugh Hopper. Other instruments are vibraphone, drums, woodwinds and keyboards.
Reference points are Pierre Moerlin's Gong, Cos and Zao. Anaid also reminds me a lot about the Norwegian band The Third And The Mortal in their way of building songs around a soprano vocalist. Anaid is though a jazz/zeuhl band. Not really hardcore zeuhl, but with enough zeuhl in them to be labelled as a zeuhl band.
The music is jazzy and slightly avant-garde. The first two tracks Belladonna and Clementine is really superb. Both has superb zeuhl vibes. The album largely fizzle out in vibraphone and vocals after those two tracks. Gong springs to mind. The end result is a very interesting, good album which deserves a bigger audience. I give it a good rating.
3 points