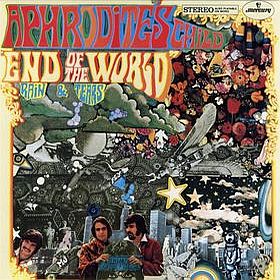 The debut album from this Greek band, lead by Demis Roussos who was a really big solo artist when I grew up. He has alone sold 40 million albums and is still going strong, to my knowledge. Aphrodite's Child was a trio and the founder of Vangelis was also in this band. Quite a trio, Aphrodite's Child.......
End Of The World was released in 1968 and a child of it's time. The music is a mix of The Beatles, Greek folk music and Pink Floyd. End Of The World is actually quite a pioneering album for it's time. The use of Hammonds is great. Gary Brooker and other tangent players must surely have been listening to this album. Demis vocals is also great. The bass and drums is also great here. Aphrodite's Child was one heck of a band on this album. I am impressed.
The Greek folk music and flower power songs here is by far the best songs on this album. The beat songs is not that good. The overall quality is really good throughout. This album is a surprise to me as I was listening to it in preparation for their 666 album. Don't go directly to that album. Lend your ears to their two other albums too. End Of The World is a surprisingly good album.
3 points