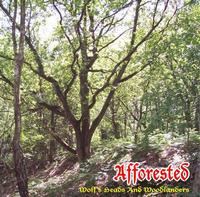 The debut offering from this new English folk rock band. A fifteen minutes long EP, that is.
The mainly instrumental music is performed with synth, acoustic guitars, bass, drums, flute and mandolin. The dominant instrument though is the synth. Dominant because the sound is really annoying synthetic. The forest here is made by plastic and not by organic materials. The other instruments feels organic enough, though.
The music is somewhat folky and new age. There is no real teeth and no bite in this music. There is no real bark either. Just this new age symphonic annoying plastic feeling synth who goes where many has gone before. This is borderline shopping mall music. There is thankfully a proper song on this album. The male vocals are a bit over the top theatrical though and does not add much to the proceedings.
On a positive note........ The flutes are really good. Some of the songs are good too. If the synths could had been scrapped and some authentic organic music had been inserted into the mix, I am pretty sure this band has a good future. This is a decent EP and nothing more than that.
2 points