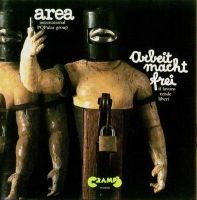 For some reasons, I have not dared touching my collection of Area albums. I think this is both lack of bravery and experience. I am though a fan of both Soft Machine and Picchio Dal Pozzo. Two bands who often are mentioned in the same sentence as this Italian band. Area was also the forefather of the more avant garde jazzy side of the Italian scene. After listening to this album a lot, I understand why. If you like any of these three bands, you will also like the two other bands. Area and this album has very much fulfilled my cravings for more Soft Machine.
This album starts with what I believe is a Jewish prayer as "Arbeit Macht Frei" is what is written over the Auschwitz concentration camp gate. Both a fitting and mood setting start of this album.
The music on Arbeit Macht Frei is a heady mix of Italian prog rock, jazz, Canterbury (Soft Machine) and avant-garde. Demetrio Stratos vocals is a bit strange and an acquired taste. The music is performed with woodwinds, bass, drums, guitars and tangents though. There is not a substandard tone on this album. My only gripe with this album is the lack of one truly brilliant song. Arbeit Macht Frei is still a great album and a must have album. The two best songs is Consapevolezza and the title track.
I am though glad I waited some years before I explored this album as this is not easy listening music. Those who wait for something good.....
4 points