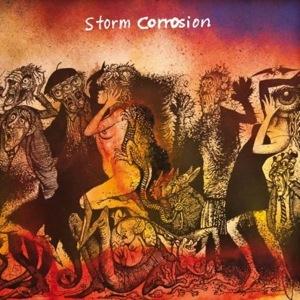 The much hyped cooperation between Steven Wilson and Michael Akerfeldt. The two darlings of today's prog rock scene.
I may sound overly sarcastic and unfair. I do not mean to be negative. Both Steven Wilson and Michael Akerfeldt has done wonderful things for the music scene and they are rightfully so the biggest two profiles in today's prog rock scene. When they team up, the result is justified hype.
Steven Wilson comes in from a more eclectic direction and Michael Akerfeldt from a more death metal direction. By logic, the result should had been a mix of those two genres. Storm Corrosion is anything by a logical step from those two guys. That is a positive in my view. Let them wait in suspense and then give, the general public, a big surprise.
Storm Corrosion is a big surprise indeed. It is an ambient folk rock album with a lot of the Scandinavian melancholy and the English quirkiness. It is a truly remarkable album by any standards. A bolt of lightening I did not expect and one it has taken me a long time to devour.
The songs are performed with mellotron, guitars, drums and woodwinds. Steven's vocals has been hidden down in the mix and works more like an instrument than traditional vocals.
The quality of the songs are good throughout with a few flashes of greatness. I cannot though free myself from the impressions that this is an album full of left overs from Opeth, Steven;s solo careers and Porcupine Tree. Left overs stripped down and adapted into the Storm Corrosion setting. It leaves the impression that this is a pretty cheap album. I may be wrong. But that is the impression I have got and I cannot free myself from it.
This is by all means a good album and a fine debut album. I hope we will hear a lot more from this partnership. But I cannot overlook this album's shortcomings too. An appropriate rating has been applied. I still want more from this partnership.
3 points