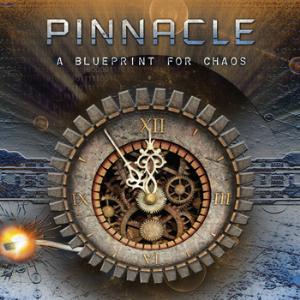 The third album from these US progsters.
A bird has been twittering into my ears that their two previous albums A Man's Reach (2003) and Meld (2006) was not particular good albums. They are both streamed at their Bandcamp page and I may check them out later. If my source is correct, Pinnacle has taken one giant leap in the right direction on A Blueprint For Chaos.
The album starts out with some strong Saga references on the opening track Some Just Sleep and then moves onto the likes of fellow Toronto residents Rush before jumping across the border to Kansas. The band Kansas, that is. Add a lot of Yes and some Jethro Tull too and you get this album. There is no direct copycat involved, except from some cheeky bars from a Deep Purple song halfway through a song. Pinnacle have their own style and that style is a revival of the good old American prog rock sound.
The guitars, keyboards, drums and bass are all great. The same goes for the vocals. The music is full of intricate details and songs. This is exactly what my prog-doctor ordered. The best song here by many miles are Music Man. I would almost say they got a hit single on their hand here. Check out the stream yourself and agree/disagree with me.
A Blueprint For Chaos is indeed a great album. Those into the good old American prog sound would even label it as a brilliant album. A couple of more superb songs in addition to the Music Man would had elevated this album to classic and legend status. Check it out.
4 points
The Bandcamp album