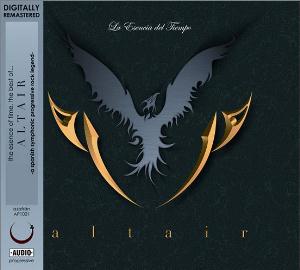 A best of with this rather short lived Spanish band. They released two albums in the 1990s called Altair (1990) and Fantasías Y Danzas (1999) + a live album. And now, this best of album which also includes two live tracks.
This band has been described as ELP copycats, movie soundtrack makers and an eclectic prog band. They are all three in my opinion. This best off album proves that. All songs...sorry, make that tracks.... are instrumental and drenched with keyboards. The keyboards are supported by a real drummer and a real bassist too. Which adds vital organic life, quality and dynamics to the tracks.
It opens with this great movie soundtrack sounding Estrella En El Camino which by far is their best ever track. The rest of the album is a bit more eclectic and avant garde introvert. With the notable exception of the above mentioned track, there are no real great tracks here. But the music never really become boring or dull. Altair was a good band in their too brief career and this best off compilation is well worth the purchase. It is a good compilation.
3 points